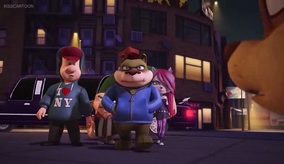 Bad Dog is a character in the film Top Cat Begins. He is voiced by Diedrich Bader.
About Bad Dog
He is one of Mr. Big's henchmen. He is always with his gang, including Panther and the other goons.
He has bright red hair and he always wears a blue jacket. He threatened the orphans that he would burn down the orphanage if they don't steal for him.
He is incensed that Top Cat took the diamonds he had just stolen. When the Goons find T.C. and inform Mr. Big, Bad Dog arrives and cracks his knuckles, getting ready for a fight.
He is also very loyal to Mr. Big. When Spook is telling his story about Eleanor, we can see Bad Dog in the background which means that he has been with Mr. Big for a long time.
Appearance
The feature film:
Gallery