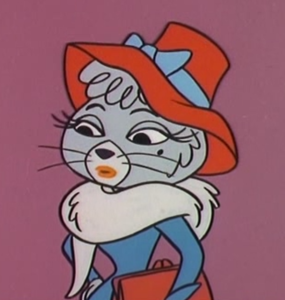 Lola Glamour the stage name of Gertrude Hoefelmeyer is a Top Cat character. She was voiced by Jean Vander Pyl.
Description
She is a famous movie star with whom Choo-Choo is infatuated. She attended the same third grade class as Choo-Choo in P.S. 158, and she claims to have known him for five years.
Lola - or Gertie - is an elegant, glamorous cat with curly grey-silver fur. Her fur curls mostly curls up at the top of her head, and a little bit at the sides of her face and she has a beauty mark on her left cheek - seen from the right-side of the screen. Lola's eyes are almond-shaped with long, luscious lashes, and she wears vibrant red-orange colored lipstick. She is initially seen wearing a red, frilly night-gown, however half-way through the episode she changes into more public-appropriate attire. After which; she can be seen wearing a red breton sun hat with a blue ribbon bound around it, a blue long-sleeved dress, a mink scarf, and a pair of black heels.
Personality
After adopting the persona of Lola Glamour and becoming a famous actress, Gertrude adopted a forced stereotypical faux-French accent and began presenting herself as vain and shallow. She mentions that she doesn't have the time for "nobodies" and is dismissive of even the rather expensive trinkets that her richer suitors present to her. However, this appears to be merely a facade based on the way she acts when she recognizes Choo-Choo as her third grade crush. After recognizing Choo-Choo, she acts much more friendly and drops the fake accent in favor of her natural accent.
Appearances
Trivia
Early into her appearance in the episode she mentions that she was out late the previous night with that cute little "Maharajah".
In the following episode, "King for a Day", Choo-Choo mentions that he "hopes that [his] girl won't be watching" - this could imply that Choo-Choo is still seeing her.
Gallery